Rental Linen Program
Florida linen services offers its customers a full linen rental program alleviating the need to invest capital dollars into start up linen inventories. Florida Linen Services carefully selects linens that find a balance between optimal quality and costs. As experts in the industry, each item is carefully reviewed and test washed to ensure its ability to satisfy the needs of our end users, the patients and staff of the hospitals we serve.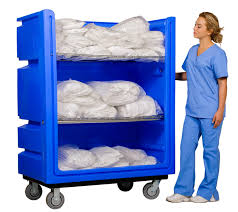 COG Linen Program
We work with customers that wish to own their own linen, by providing our expertise to not only process the linen, but also to manage the customers own linen inventories ensuring adequate par levels, reordering of new linen, linen injections to ensure a full circulating inventory, as well as working with COG customers to standardize their product inventories. Florida Linen Services also assists COG customers will volume purchasing to ensure the lowest cost point of new goods.
Scrub Program
To control facilities scrub usage, we offer a scrub program that includes stamping the garments with the facility's logo, and bar coding each individual scrub. As each scrub enters and leaves our processing plant, the scrub is scanned in and out so that we can track scrub usage for our customers. Our scrub programs may be customized to your needs, either using rental or customer owned goods. FLS has the capabilities to implement full locker programs or to partner with IPA/Scrubex to install scrub dispensing and control equipment in various areas of each facility.
Florida Linen Services will work with each facility to select the most preferable colors, style, fabric, and sizes of scrubs ensuring a circulating inventory to meet the organizations healthcare professionals needs.
Premium/Specialty Linen
Florida Linen Services is geared to offer specialized linen for user areas such as; VIP units, sleep centers, clinics, and medical imaging centers. Customers may choose from a wide range of non-institutionalized products to meet the needs of their selected cliental. FLS provides rental and COG programs for cubicle/privacy bed curtains and will offer full lease programs which includes the curtain, and tracks/rods.
To meet infectious control requirements FLS can install barcode or RFID systems to electrically monitor the dates, times, and frequency of laundering these specialized products.
MOPS MATS and DUSTERS
We provide a complete selection of environmental service items, which includes; microfiber wet/dry mops, high dusting sleeves, and microfiber dusters. Available in a range of colors to meet the usage needs of the facility. FLS will provide walk off mats which may be customized to size and specialize logos. Antimicrobial and antifatigue mats are also available on a rental basis.
Direct sales
Florida Linen Services provides a complete range of linen and disposable products such as pillows, plastic bags, and hamper stands, which are offered to FLS customers at a competitive price point. Scrubs and various textiles are also offered as direct sales as customers need them.
Internal Distribution
Florida Linen Services offers its healthcare customers an internal distribution program, which utilizes Florida Linen Services own staff to manage the facilities linen room and distribution throughout the facility. This includes the development of par levels for each user area and the implementation of exchange carts and or a top-up system ensuring each user area has the correct inventory to meet patient needs. Included within the distribution system FLS incorporates linen management software that records linen utilization by user area as well as patient day enabling the facility to budget by user area and benchmark usage with other similar facilities.
Linen Management Services
Our customers are our most important focus. We place a great focus on ensuring that our Service team is helping all of our facilities meet their goals. We offer a wide range of services and programs that can help improve quality, control par levels on the patient floors, or even setting new policies and procedures to improve patient care.
Dedicated Account Managers – that are available 24/7. You will have the help of one of our highly-experienced account managers doing on-site weekly visits where they will monitor inventory and proper usage, conduct in-service education and linen staff training.
Linen Awareness Days – Our Account managers specialized program aligns with our customers desire to lower their costs by educating nursing and staff on proper linen procedures to reduce linen losses and linen usage costs.
Reject Linen Programs – Our focus on quality goes beyond our facility, it extends to your patient floors to ensure that your patients only receive the best quality linen and your linen staff has a procedure in place to return linen that is not fit for patient care. If you don't use it, don't pay for it.
Linen Committee Meetings – we will help hospitals coordinate and organize their very own linen committee meetings to help establish linen policies and procedures that affect patient care and satisfaction.
Linen Management Software – Florida Linen uses a powerful linen management software. This software can help manage your day to day linen usage by tracking linen usage by department or user area.
Flexible Linen Ordering – our onsite Account Managers will ensure your daily deliveries meet your needs. You can email, fax, call or even make changes to your delivery directly through your own dedicated LinenMaster Portal online.
Onsite linen system analysis – we will perform a thorough and detailed analysis on your linen program and procedures, looking at everything from your daily delivery schedule, linen distribution, linen storage, soil collections and much more. We will make recommendations and identify opportunities for improvement and recommend specific practices that will assist in reducing linen usage and linen costs.
Reporting
Monthly linen usage reports
Monthly chemical and lab reports
Quarterly linen loss reports – clean/ soil variances
Linen replacements by item – linen life ratios
Account linen usage history
Customer service reports
Bar coding scrub program
Green Initiatives
Florida Linen Services has made the commitment to be among the most energy efficient and green commercial laundries in the country.
New efficient washers and dryers that clean and sanitize linen while using less energy and less water per pound of linen processed
All plastic soil bags are bailed and recycled
All cardboard material is pulled from trash and recycled
New water reclamation system than reduces our incoming water by 50%
EPA registered wash chemicals
Additionally, Florida Linen Services encourages our customers to use our reusable product line including underpads, washcloths, pillowcases, sheets, and gowns in place of disposable products in order to reduce hospital waste